The Top Five Elliptical Machines
An elliptical trainer is one of the safest exercise machines, resembling a stationary bike, that works out the body by using the pedals and the arms for support in a standing position. It is among the most common home fitness equipment found in almost every gym whose benefits are usually underestimated.
There are many comparisons between the effectiveness of a treadmill, an exercise bike and the elliptical trainer. Of course, the elliptical has lesser output but they are highly recommended for low-intensity workouts, especially for people recovering from injuries, weak knees and are aiming for lighter cardio. Here at Fitness Products Reviews, we will list out the top five best elliptical trainers if you are planning to buy one for yourself or to start using one at the gym. But first, below you will find the top reasons for the benefits of using an elliptical
Top Reasons To Use An Elliptical Trainer
An elliptical trainer is considered by many professional athletes and health gurus, as a powerhouse among exercise equipment as they are extremely helpful with the cardiovascular system. Exercising with an elliptical trainer targets your cardiovascular system, improves heart rate and strengthen your lower body. All this helps increase the ability for your body to perform aerobic functions by strengthening the lungs, heart and heating up the body.
Unlike other training equipment that concentrates on a specific part of the body, an elliptical trainer gives a whole body workout. It not only trains the lower body but also works on the upper body. The handle-levers which are used for balance engages the upper body while moving the lower body during the push and pull synchronization.
One of the main reasons why an elliptical is preferred over other cardio exercises is because of the low-intensity impact on the joints and nerves. Since the heels are always stabilized on the pedals, it puts less strain on the knees and the ankles and joints. Unlike cycling or running, you don't have to worry about sudden strains and injuries on the knees, joints or veins which make it a safer choice for the elderly or those with joint issues.
Improves endurance and Strength:
Working on an elliptical cross trainer is a weight-bearing exercise aids muscle building and endurance. It targets the hamstrings, quadriceps, calves and glutes without staining the joint and the knees which make it effective and safe workout equipment.
Most people exercise to keep their weight in check but the routine has to often be grueling exercises to see results. With an elliptical, most users do not feel the strain and are comfortable to work the extra mile without feeling exhausted soon. An elliptical can burn up to 400 calories within 30 minutes as opposed to other training equipment. So if you are aiming to shed a few kilograms with each workout without feeling like you are working too hard, an elliptical is the perfect equipment.
When you look at an elliptical trainer, you will immediately know how to use it, it is not rocket science! There are different variations on how to use it, but the basics are quite simple. It occupies only a small area and there is hardly any need for assistance to set it up or help you work on it. You can get a high intensity workout within a very short time. You can also take it slow and work on it while watching TV, reading through your Kindle or make phone calls!
When you work on the same activity repeatedly, your muscles get used to this movement and stop developing over time. This is why you need to switch up your routine to keep burning calories and work out muscles that are lying idle to get a wholesome result. Unlike other workout equipment, the elliptical trainer allows you to modify and switch the different workouts and change intervals for a more effective result.
How to safely use an Elliptical Trainer
Using an elliptical trainer is simple. All you have to do is to hop on the machine and put your feet on the pedals firmly and ensure that you are stable by holding on to the handles.
Make sure you use the following correct postures:
Stand straight with your back erect
tighten your abs,
roll back shoulders and keep it relaxed
shoulders rolled back and keep it relaxed
keep your core engaged.
Move your feet as if you are walking forward
Push one handle forward and pull one handle inwards alternatively
Now that you have the information on why you should get an elliptical trainer and how easy it is to use, you can select some of the best elliptical trainers from these selected machines.
Product Description
The Sole Fitness E35 Elliptical machine is a lightweight elliptical trainer that is driven by a whisper quiet drive system.
It works in a fluid motion both forwards and in reverse. It has an extremely smooth feel because of the high gear rotation and the 25 lb flywheel which makes revolutions easy but effective.
It has 20 levels of resistance which makes each workout a challenging and adjustable.
The pedals are built to fit the majority of different sized feet so that it is comfortable for everyone using it. It also inclines at two degrees which reduces stress on the knee and the ankles.
The adjustable handlebars make moving more comfortable while the stationary handles are equipped with a pulse sensor that monitors the user's heart rate and displays it on the LCD screen.
The broad footbed also makes it comfortable for high-performance workouts for long durations.
This gym equipment also has a built-in LCD console that is easy to use and has a clear display that is easy to view while performing. The LCD console also features a cooling fan and a built-in MP/ iPod player for a luxurious and comforting workout.
The LCD screen shows vital statistics that can help you check your health and important training data.
It also has a water bottle holder and speakers for your convenience.
Features of Sole Fitness E35 Elliptical Machine
The machine does not make noise while it's in use. It has a smooth natural feel whether you run it on a reverse or forward. The heaviness of the flywheel and the high gear allows you to glide smoothly throughout the various levels of intensity.
The E35 features adjustable pedals which makes pedaling through challenges less stressful while maintaining the effectiveness. They give it a sense of fluidity that helps run through the programs without feeling tired, helping most last longer than other equipment such as the treadmill or the cycle.
Sitting at 244 lbs (light for most ellipticals), the E35 elliptical can be moved from one place to another rather easily. The dimensions are 32.28×8.66x 26.38 inches, not occupying much space and can be used in a small space or a large gym, indoors and outdoors (covered to prevent water damage of course).
The fitted console with a blue and black display can be adjusted for personalized workout statistics and saving vital training data. It is about 7.5 inches wide that can even monitor heart rate through the pulse grip sensor.
Standard and Custom Programs Available
The E35 has six built-in standard programs and two custom programs that can be adjusted to your workout preference to give you the maximum benefit each time you use it. It also helps you target and concentrates on different body parts simultaneously.
The machine has a stationary handlebar that is fitted with a pulse sensor. It also includes a chest strap that monitors your vital statistics such as heart rate and blood pressure when you are working out.
One of the best parts about making this a part of your home gym setup is the smart built-in fan attached to keep the machine and you running for a longer period without being too concerned of overheating.
Powered 20 to 22 inch Stride
The adjustable stride and incline can stretch up to 20 to 22 inches. This feature is useful in modifying your routine to hit different spots and muscles. You can adjust it to tour comfort and need, depending on your physical ability.
Adjustable 15-inch pedals
The broad pedals make it easier to rest your feet comfortable while working out and it also gives a secure footing which puts less pressure on the ankle and the knees.
Built-in water bottle holder
Why stop your workout to hydrate when you can continue and get your bottle on the go? The water bottle holder makes it convenient to continuously workout without losing your focus and keeping you hydrated.
The console can play MP3 and can connect to other players such as your iPod. You can listen to motivational audio or training guide and music to inspire and ease your tensions while working out!
The E35 is built with a guaranteed lifetime frame. It comes with a five year electronics and parts warranty, which goes to show the confidence the company has by guaranteeing its durability for years after purchase.
Pros and Cons of the E35 Elliptical Machine
Overview of SOLE Fitness E35 Elliptical Machine
The Sole Fitness E35 Elliptical Machine is although workout equipment that looks and feels smooth and effective. It can conveniently be used for a low and high-intensity workout because of the highly modifiable programs and features. Even though the machine might seem heavy and slightly hard to assemble initially, it should be noted that once you set it up, you will rarely be disassembling it again so that should not be a problem.
With the manufacturer's warranties and lifetime frame, this piece of equipment is an investment that can definitely be helpful for the new and old fitness enthusiast.
When fitness products turn into more than just exercise.
Our second selection is the 5.9 AE Elliptical from AFG Sports. This piece of machinery is built with sophisticated and advanced features. Looking at the specialized yet power-packed equipment makes the previous machine look like an amateur. Priced much lesser but with more features, let's see what this elliptical can do!
Product Description
The extremely smooth and motion quiet cross exercise equipment is equipped with a 23lb flywheel and a precision drive system that makes gliding through those extra time and reaching your rev goals much easier.
With a 20-inch glide length, you will be able to stretch out those glutes and clave muscles as much as you can without worrying about pulling a hamstring or straining the ankles and knees.
Upgraded from the previous model, this equipment has 43 workout programs that can be customized to your preference. The 16 resistance level makes it a smooth but challenging machine that is sure to make more progress towards your body goals.
The high tech elliptical machine features Bluetooth connectivity on the LCD screen to help your work out sessions more fun and convenient.
It is also equipped with a sound system, tablet connectivity, USB charging port and a cooling fan that will have you freely spending much more time on the machine without having to get off every time you need a break.
The multiple user accounts on the LCD makes it even more convenient and can be used as commercial fitness equipment in gyms or even shared at homes.
The magnetic resistance and ergonomic handlebars have 16 levels and it is also cushioned for a firmer and more comfortable grip, preventing sweat or sticky accumulations from building up.
Features of AFG Sports 5.9 AE Elliptical
Wireless Bluetooth connection
The 4.0 Bluetooth connections allow you to connect your smartphone or tablet where you can control your settings and monitor your progress and track your workout timings.
Speakers and Wireless music transmission
The 5.9 AE is equipped with a 5-watt speaker that allows you to play from an external device without the wires. This allows you to have fun or receive other information while you are working out.
The machine is built in such a way that it mimics the natural posture of the body to optimize your body positions during the workout. This signature feature prevents the body from leaning or bending unnaturally which often cause a threat to the backbone and the lower body if not positioned properly.
The 5.9 AE is built for professional athletes as well as amateur starters who like diversity in their routine. It is equipped with a smooth drive system but a deluxe 23lb flywheel which makes working out a challenge but minus the forceful strain on the joints and knees.
To add to the attraction, the elliptical also comes with a free chest strap that allows you to monitor your heart rate and pulse while working out. This information can help you improve your health as well as your workout routine.
There are over 43 workout programs incorporated in the LCD monitor that helps you check your data even while you are exercising. It has a clear display that can easily be viewed even while you are in the midst of an intense workout.
What makes an elliptical effective is the glide length and this machine allows you to spread up to 20 inch which is quite sufficient to affect most of the muscles in a normal person.
If an elliptical is too smooth it makes the workout too easy, having less effect on the physiques. However, the 5.9AE has 16 levels of resistance which makes it challenging, keeping you motivated to work harder and get faster results.
With an assembled dimension of 76x34x57 inches and a weight of 201 lb, this equipment is quite heavy but takes up only a small space so it can be placed anywhere around the house or spaces.
Pros and Cons of 5.9 Elliptical Trainer from AFG Sports
Overview of 5.9 Elliptical Trainer from AFG Sports
The AVG Sports 5.9AE Elliptical is definitely a machine that can provide a safe and effective workout routine to all ages and people with different capabilities. What stands out in this machine are the high tech-friendly features that make working out easier and more fun with all the potential gadget connectivity. It is very silent, smooth and easy to use.
You might need some help in installing different apps to connect to it and also in assembling some pieces together but all in all, it provides enough leverage, resistance and comfort to work out without staining the sensitive muscles on the upper or lower body.
The design of the E1 is different from the previous two as it does not have a side slide. It is compact looking but much heavier than the others. The solid and sturdy looking machine is made for personalized use in compact areas so if you are looking for something that is low maintenance, durable and effective, this could be the right machine for you.
Product Description
While exercising, many injuries and strain on the body are caused when the body is not positioned properly. This is the reason we mentioned correct posture earlier. Many elliptical machines are either highly inclined or widely spread that makes the bodily movement seem unnatural, causing unnecessary strains on various parts of the body and can ultimately lead to injuries.
To prevent such incidents, the E1 is built to imitate the natural and comfortable stride. It is designed to ensure that it has a biometrically correct elliptical shape. It moves with the natural motion of the body while the user is running or walking providing a realistic feel of the natural movement.
The elliptical E1 is made with a balanced frame on both sides of the unit to prevent it from unstable movements and it has a compact footprint which makes it compatible for use in small space.
The small frame is made of durable steel and sturdy materials that keep the machine stable and hold up to 275 pounds of weight.
The transport wheel attached to the front makes up for the heavy equipment, making it easily portable from one place to another.
The limited pedal spacing is meant to prevent stains on the hips as too wide or too narrow space put strains on the hips.
The moveable handlebars allow you to move your arms while you are pedalling so that the upper body and the arms also receive some attention and aid in core workout.
Like the previous machines, the E1 also has a heart rate monitor and a console with an LCD screen that keeps tracks of the speed, distance and time during your workout. It also counts calories burnt, which means that you can have a clearer perspective to focusing on your physical goals.
The 17 level resistances offers enough challenge to keep pros and amateurs motivated to keep pushing further and the 12 fitness program guides you to try out a variety of workout and keep your routine challenging and fresh.
Features of Best Fitness E1 Elliptical Trainer by Body Solid
The powder-coated frame makes it safer and offers a stable space for a high-intensity workout.
The centre drive design allows you to stay in a stable lane and prevents your legs from moving in unnatural positions that might cause damage or injury to the nerves.
The wide variety of resistance options can help you adjust the intensity of your workout. Switching resistance to a higher level makes it more difficult to maneuver, burning more calories.
The heart monitor wire is attached to the machine and it keeps track of your pressure and heart rate, enabling users to modify their routine according to their physical needs.
There are 12 programs that you can try and switch up to give you an overall workout experience. Switching your routines also help you target areas that are normally not affected in routine pedals.
The fixed stride length is ideally build to suit the natural stride so that you are comfortable while working out.
The pedals are placed at the lowest and safest height for easy access and they are placed closely so that your hips are not strained during the workout.
Portable and compact design
The E1 has wheels on the front so that you can move it from one place to another. It can also be easily stored or used in small areas without the need on an assistant.
The E1 weighs about 215 pounds making it quite a heavy machine but the dimensions of 48x 30x 66 inches make up for the bulky weight and the attached wheels make it convenient to move it around.
This product is meant for durability, with the manufacturers guaranteeing 15 years of frame life, 10 years of motor life and 2 years of electronic and arts. The labor year is also warrantees up to 1 year whereas the wear parts are made to last at least six months, making it one of the most durable items in our list.
Pros and Cons of Best Fitness E1 Elliptical Trainer by Body Solid



Pros
Its compact design
The Clear visibility monitor
Stable and sturdy frame
Durability guaranteed
Low height pedal
It has a heart rate and workout monitor
Naturally inclined for safety and comfort
Safe for older people and weak ankles or back
No strain on the hips
21 inches stride length
It can carry up to 275lb of weight
High resistance level for a variety of intensity routine
Cons
It has only 12 fitness programs
It doesn't allow side strides

Overview of Best Fitness E1 Elliptical Trainer by Body Solid
Knowing that the product is an offshoot of the trusted Body-Solid brand, the E1 is already a trusted machine that needs not much introduction. Coming from a high-quality fitness equipment producer, the manufacturers seem to know what is best for the user. Unlike conventional equipment, a well-thought-out machine is a powerful unit that not only serves as a power-pack unit but also as a starter for beginners.
The safety concerns that are put into building this product is greatly appreciated while making it mobile even though it is quite bulky. If you are looking for something the Best Fitness E1 Elliptical Trainer is going to last you for years, this product is guaranteed to keep you working out to different music and routine to keep you in shape.
While most elliptical trainers are considered as low-intensity workout instruments, the ProForm Cardio elliptical trainers have changed this concept with their unique HIIT features. If you are wondering what HIIT means, it stands for High-Intensity Interval Training technique that requires you to continuously put in all your effort for a certain amount of time and taking a short recovery period without lowering your heart rate.
This HIIT workout technique is used to burn calories faster and build a stronger endurance in a short period of time. If you are physically stable and are planning to get those toned legs as soon as possible, this machine could be the right one for you!
Product Description
The ProForm HIIT elliptical trainer is built to stimulate your whole body with high-intensity workout programs that will effectively burn out calories each time you workout.
It has a 10-inch elliptical path that resembles an uphill-climb, targeting your legs, glutes and lower body.
The multifunctional handlebar is adjustable so you can use it for a variety of routines to concentrate on the upper body as well.
The advanced trainer has a built-in 7 inches backlit display that shows all your vital information and workout programs. It also has a tablet holder and iPod compatible speakers so that you can work and listen to music at the same time while doing your work out.
The 32 workout apps also provide a variety of programs that you can follow and practice on the machine if you want more variety to hit up all the secret muscles.
The heavy flywheel keeps the trainers challenging for every user while the cushioned pedals make it comfortable to use, allowing you to quickly reach your fitness goals.
Besides the high tech features, it also has the convenient water bottle holder, portable wheels and sturdy construction that can carry up to 350lb of weight capacity. If you are looking for a machine that can yield a fast result in a comfortable setting, this machine could do the trick!
Features on the ProForm Cardio HIIT Elliptical Trainer
High-Intensity Interval Training Technology
This training technique allows you to burn calories and reach your fitness goals faster. It involves lower and upper body workout and guarantees a full body workout with ease.
Audio port and 2-inch speakers
The audio port can sync with your Apple gadgets and allows you to listen to various broadcasts and programs to make your workout routine more fun and productive.
10inches vertical and 5 inches elliptical path
The wide path keeps each step more challenging as you progress through your workout, ensuring that you get the most effective stimulation from each step.
It can hold and sync with your tablet where you can also gain access to various programs that can aid you with your workout routine. The device grip design also allows you to install and connect various other gadgets.
26 Silent Magnetic Resistance (SMR)
This device features the innovative SMR technology that prevents the machine from creating loud noise. It also keeps it durable and smooth-running so that you can focus on your routine without disturbing others.
Pulse Sensor and included chest straps
When you grip on the handlebar or paste the chest straps you can view your EKG information making it easier to modify your routine to suit your needs. This data is collected and stored on the built-in console.
While most other ellipticals have a light to medium weight flywheels, the HIIT Trainer is equipped with a 30lbs flywheel which makes it a challenging and effective workout instrument.
The trainer comes with a huge console screen. It has smart features that make it compatible with mobile devices with Bluetooth and touchscreen technology to give you a sense of convenience and sophistication.
The 2.2lbs pound equipment with its 50x22x34 dimensions makes it convenient for storage even in small spaces. You can use it at home, office or anywhere without interfering with other furniture and equipment around.
The smart technology incorporated on the machine allows you to sync your unit to a mobile device and plan your workout by syncing it to Google maps. This allows you to modify your settings based on real places around the world and view the areas in real time. You can also access unlimited workout programs from the internet and incorporate them into your routine.
The frame is guaranteed to last a lifetime whereas the pasts are made to last for 3 years with 1-year labor.
Pros and Cons of ProForm Cardio HIIT Elliptical Trainer
Overview of ProForm Cardio HIIT Elliptical Trainer
The ProForm HIIT Elliptical is quite a beautiful piece of machinery that really catches the eye. With the promise of allowing you to perform high-intensity workout while putting the least amount of strain on the sensitive parts of the legs and upper body, it sure is a piece of wholesome equipment. Technologically advanced but all the added features could be distracting for some users. If you have no problem managing your way through the different apps and how devices work, the ProForm Cardio HIIT trainer could be a great machine that can easily shape you and help you reach your fitness goals. However, if you are not sure if you need all these advanced features, you might want to look for a simpler elliptical machine.
Love at first run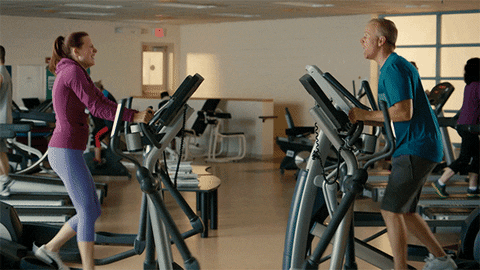 If you are looking for a straight-forward machine that can effectively help you perform the same workout as the others mentioned above, look no further. We have saved the best for the last and we hope it doesn't disappoint your expectations.
The ZR8 Zero Runner is a premium elliptical machine that is powered to provide unlimited benefits while securing the safety and comfort of the user. What makes this fitness equipment stand out from the rest of the previous machines is that it replicates the natural movement of the body while performing activities such as climbing, walking, jogging and running. With the wide stride option, you are able to have a comfortable stride without causing strains on the knees or joints.
The ZR8 Runner is simple to look at but it is packed with power that can surpass most high-tech workout equipment. It is hassle-free and takes up the least space while giving you a full body workout without straining your ankles, knees, back or feet.
Product Description
You can reap the benefits of a comfortable and convenient indoor exercise with the silent and smooth elliptical trainer from Octane Fitness.
Depending on your routine the workout programs can be modified into various other routines.
The resistance levels make it perfect as a warm-up machine or for beginners and people who have bone, nerves or muscles problems.
The 58-inches stride is more than enough to provide an effective workout while having very little or no impact smooth flow.
The handles are programmed with pulse rate grips so you can monitor your EKG stats on the inbuilt monitor and adjust your routine and programs accordingly for more effective results.
The machine has sturdy handlebars that are built to keep you balanced and comfortable while working your upper body.
Unlike many elliptical trainers, the ZR8 Zero Runner has a large pedal with an anti-slip surface which makes it easier to have a firm grip and stability while going for high intensity routines.
The exercise unit also has a simple built-in monitor with a large LCD screen and clear display in case you want to check your performance data while you are working out.
The most comfortable feature of this exercise equipment is the elbow mounting stand that allows you to rest your arms or concentrate on targeting it.
It can carry at least 330lbs (150 kg) of body weight on its 191 lbs structure, making it stable for all sizes and weights.
Features of Octane Fitness ZR8 Zero Runner
To ensure long-lasting durability, the structure is made of aircraft-grade aluminum and lightweight materials for a smooth and enhanced performance
Wide Screen Stride Tracer
The built-in digital monitor shows basic information about your workout routine such as speed, time, distance and calories burnt. It also displays the result from the heart rate monitor strap when it is attached to your body. The monitor is always clear and does not get foggy or faded. You can also choose different functions with the easy-press buttons on the monitor to use the fan or change the workout mode.
Since most of these elliptical trainers are heavy and hard to move around on your own, the Zero Runner Elliptical trainer has sleek transportation wheels hidden on the front of the unit stand to make it more convenient for storage and portability. You can now transform any spot into a gym!
Adjustable Magnetic Resistance
The trainer is built with an adjustable resistance that can be changed with the help of a turnable knob. To change the intensity of the workout, all you have to do is turn the knob from clockwise and counterclockwise to increase or decrease the intensity of the resistance.
The unique feature of this machine is that you can modify it and turn it into a cross circuit. Switching up between the normal elliptical and strength exercises helps you to condition different parts of your body better. The unit comes with free resistance band and connection points to help you easily incorporate other forms of exercises.
The machine is equipped with an electronic display that checks the heart rate through pulse sensors on the handlebars. By keeping track of your heart rate, you will be able to customize your routine to better fit your requirements effectively.
The pedals are responsible for determining 80% of the machinemachine efficiency. If they are too small, they could strain the ankles or make you lose your balance and hinder your concentration ability. The Ancheer elliptical has a big pedal lined with non-slip material to give you a secure grip whether you are working out intensely or with leisurely.
With the need to administer the tension on the knees, joints and other sensitive muscles and nerves, you also need to control the intensity of the machine. In this equipment, you can easily change the tension from a scale of 1 to 8 with the turning of a magnetic knob.
The built-in SmartLink App allows you to download and develop customized workout routine to improve strength, activate energy and increase endurance. It also helps you to keep track of your progress and reach certain fitness goals.
Pros and Cons of Octane Fitness ZR8 Zero Runner
Overview of Octane Fitness ZR8 Zero Runner
The Octane Fitness ZR8 Zero Runner looks sleek and straight forward. With advanced programs and other extra features, it is one of the best looking basic modern elliptical trainers. It performs all the functions of a basic elliptical while ensuring that you get the benefits of a whole body workout without causing damage or stress on certain parts of the legs and arms. It is a highly adaptable machine that is friendly to incorporate with other training routines for a wholesome result.
So now that you know which elliptical trainer will best suit your requirements, we still have few tips to get you working out in the right way to gain the most effective results and also use the machine with a precaution to prevent injuries or further aggravating existing problems.
Feel free to take a look at some of our other expert reviews below!
Best Home Gym for Consumers Review 
Best Rowers for Households in 2020